Interesting that this was retracted.
https://www.mdpi.com/2076-393X/9/7/693/htm
The Safety of COVID-19 Vaccinations—We Should Rethink the Policy
1
Poznan University of the Medical Sciences, Pediatric Hospital, 60-572 Poznan, Poland
2
Department of Psychology, University of Witten/Herdecke, 58448 Witten, Germany
3
Change Health Science Institute, 10178 Berlin, Germany
4
Department of Radiation Oncology, Leopoldina Hospital, 97422 Schweinfurt, Germany
5
Independent Data and Pattern Scientist, Brinkenbergweg 1, 7351 BD Hoenderloo, The Netherlands
*
Author to whom correspondence should be addressed.
Academic Editor: Ralph J. DiClemente
Received: 2 June 2021 / Revised: 19 June 2021 / Accepted: 21 June 2021 / Published: 24 June 2021
(This article belongs to the Section 
COVID-19
Vaccines and Vaccination)
Background
:
COVID-19
vaccines have had expedited reviews without sufficient safety data. We wanted to compare risks and benefits.
Method
: We calculated the number needed to vaccinate (NNTV) from a large Israeli field study to prevent one death. We accessed the Adverse Drug Reactions (
ADR
) database of the European Medicines Agency and of the Dutch National Register (lareb.nl) to extract the number of cases reporting severe side effects and the number of cases with fatal side effects.
Result
: The NNTV is between 200–700 to prevent one case of
COVID-19
for the
mRNA
vaccine marketed by Pfizer, while the NNTV to prevent one death is between 9000 and 50,000 (95% confidence interval), with 16,000 as a point estimate. The number of cases experiencing adverse reactions has been reported to be 700 per 100,000 vaccinations. Currently, we see 16 serious side effects per 100,000 vaccinations, and the number of fatal side effects is at 4.11/100,000 vaccinations. For three deaths prevented by vaccination we have to accept two inflicted by vaccination.
Conclusions
: This lack of clear benefit should cause governments to rethink their vaccination policy.
1. Introduction
In the course of the SARS-CoV2 pandemic, new regulatory frameworks were put in place that allowed for the expedited review of data and admission of new vaccines without safety data [
1
]. Many of the new vaccines use completely new technologies that have never been used in humans before. The rationale for this action was that the pandemic was such a ubiquitous and dangerous threat that it warrants exceptional measures. In due course, the vaccination campaign against SARS-CoV2 has started. To date (18 June 2021), roughly 304.5 million vaccination doses have been administered in the EU (
https://qap.ecdc.europa.eu/public/extensions/
COVID-19
/vaccine-tracker.html#distribution-tab (accessed on 18 June 2021)), mostly the vector vaccination product developed by the Oxford vaccination group and marketed by AstraZeneca, Vaxzevria [
2
] (approximately 25% coverage in the EU), the RNA vaccination product of BioNTec marketed by Pfizer, Comirnaty [
3
,
4
] (approximately 60%), and the
mRNA
vaccination product developed by Moderna [
5
] (approximately 10%). Others account for only around 5% of all vaccinations. As these vaccines have never been tested for their safety in prospective post-marketing surveillance studies, we thought it useful to determine the effectiveness of the vaccines and to compare them with the costs in terms of side effects.
2. Methods
We used a large Israeli field study [
6
] that involved approximately one million persons and the data reported therein to calculate the number needed to vaccinate (NNTV) to prevent one case of SARS-CoV2 infection and to prevent one death caused by
COVID-19
. In addition, we used the most prominent trial data from regulatory phase 3 trials to assess the NNTV [
4
,
5
,
7
]. The NNTV is the reciprocal of the absolute risk difference between risk in the treated group and in the control group, expressed as decimals. To give an artificial example: An absolute risk difference between a risk of 0.8 in the control group and a risk of 0.3 in the treated group would result in an absolute risk difference of 0.5; thus, the number needed to treat or the NNTV would be 1/0.5 = 2. This is the clinical effectiveness of the vaccine.
We checked the Adverse Drug Reaction (
ADR
) database of the European Medicine Agency (EMA:
http://www.adrreports.eu/en/search_subst.html
#, accessed on 28 May 2021; the
COVID-19
vaccines are accessible under "C" in the index). Looking up the number of single cases with side effects reported for the three most widely used vaccines (Comirnaty by BioNTech/Pfizer, the vector vaccination product Vaxzevria marketed by AstraZeneca, and the
mRNA
vaccine by Moderna) by country, we discovered that the reporting of side effects varies by a factor of 47 (
Figure 1
). While the European average is 127 individual case safety reports (ICSRs), i.e., cases with side effect reports, per 100,000 vaccinations, the Dutch authorities have registered 701 reports per 100,000 vaccinations, while Poland has registered only 15 ISCRs per 100,000 vaccinations. Assuming that this difference is not due to differential national susceptibility to vaccination side effects, but due to different national reporting standards, we decided to use the data of the Dutch national register (
https://www.lareb.nl/coronameldingen
; accessed on 29 May 2021) to gauge the number of severe and fatal side effects per 100,000 vaccinations. We compare these quantities to the NNTV to prevent one clinical case of and one fatality by
COVID-19
.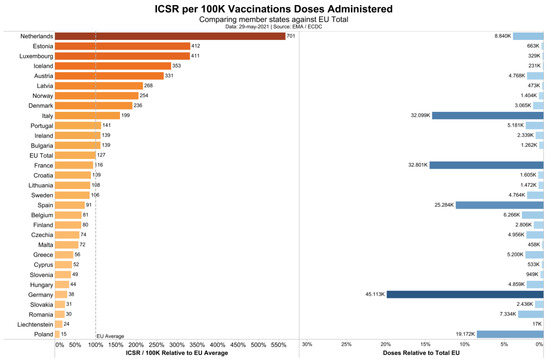 Figure 1. Individual safety case reports in association with COVID 19 vaccines in Europe.
4. Discussion
However, one should consider the simple legal fact that a death associated with a vaccination is different in kind and legal status from a death suffered as a consequence of an incidental infection.
Our data should be viewed in the light of its inherent limitations:
The study which we used to gauge the NNTV was a single field study, even though it is the largest to date. The other data stem from regulatory trials that were not designed to detect maximum effects. The field study was somewhat specific to the situation in Israel, and studies in other countries and other populations or other post-marketing surveillance studies might reveal more beneficial clinical effect sizes when the prevalence of the infection is higher. This field study also suffered from some problems, as a lot of cases were censored due to unknown reasons, presumably due to a loss to follow-up. However, the regulatory studies compensate for some of the weaknesses, and thereby generate a somewhat more beneficial risk–benefit ratio.
Another point to consider is that initially, mainly older persons and those at risk were entered into the national vaccination programs. It is to be hoped that the tally of fatalities will become lower as a consequence of the vaccinations, as the age of those vaccinated decreases.
5. Conclusions
The present assessment raises the question whether it would be necessary to rethink policies and use
COVID-19
vaccines more sparingly and with some discretion only in those that are willing to accept the risk because they feel more at risk from the true infection than the mock infection. Perhaps it might be necessary to dampen the enthusiasm by sober facts? In our view, the EMA and national authorities should instigate a safety review into the safety database of
COVID-19
vaccines and governments should carefully consider their policies in light of these data. Ideally, independent scientists should carry out thorough case reviews of the very severe cases, so that there can be evidence-based recommendations on
who
is likely to benefit from a SARS-CoV2 vaccination and
who
is in danger of suffering from side effects. Currently, our estimates show that we have to accept four fatal and 16 serious side effects per 100,000 vaccinations in order to save the lives of 2–11 individuals per 100,000 vaccinations, placing risks and benefits on the same order of magnitude.
Author Contributions
Conceptualization, H.W.; methodology, H.W.; writing—original draft, H.W.; guarantor, H.W.; checked the analysis for correctness and contributed to the writing. R.J.K.; analysis of the
COVID-19
vaccination volumes reported by ECDC and the ICSR reports from EMA and graph production, W.A. All authors have read and agreed to the published version of the manuscript.
Funding
This research received no external funding.
Institutional Review Board Statement
This was a study on publicly available data and a secondary analysis, and as such not subject to an ethical review.
Informed Consent Statement
Informed consent was obtained from all subjects involved in the cited studies used in our analysis.
Data Availability Statement
Conflicts of Interest
The authors declare no conflict of interest.
| | |
| --- | --- |
| | Publisher's Note: MDPI stays neutral with regard to jurisdictional claims in published maps and institutional affiliations. |